Introducing the Pullin Full Draw
Are you looking for a way to continue to use a vertical bow because of a physical disability? If so, you owe it to yourself to check out the Pullin Archery Full Draw bow tensioning system.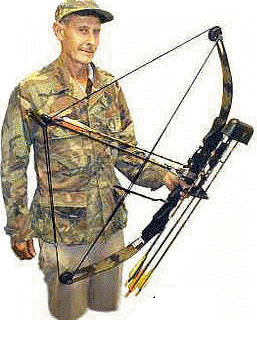 Bow held safely at full draw using the Pullin Full Draw system.
This bow is legal for all states where the crossbow is a legal choice for hunters.
The Pullin Full Draw Tensioning System is recognized and endorsed by the United Foundation For Disabled Archers and Buck Masters because it makes the perfect bow for the physically challenged hunter. It is set up to be extremely easy on the shooter's shoulder, arm and hands. It can be converted from a regular vertical bow to the Pullin Full Draw lock in seconds and is light as a feather. It is important to note that the Pullin Conversion Kit is available for and can be added to any vertical bow, if you desire to convert one that you already have.
The advantage of the crossbow with the convenience of a vertical bow package!
Whether you are starting from scratch or you wish to add the Pullin concept to the bow you already use, there is a solution to fill your needs, whatever they may be.
Introducing the bow of the future!
Are you looking to completely replace your existing bow? The Awesome Full Draw Bow is completely compatible with the Pullin Archery full draw conversion kit. With just one bow you have the option of having a choice of using a standard hunting bow or converting it into a crossbow. Our bow has the smoothest cam on the market today, and like our conversion kit, it is designed to be easy on the shooter's shoulders, arms and hands.
This bow is perfect for the physically challenged bow hunter.
Latest News
David Pullin Interview
Click below to hear an interview with Mr. Pullin, conducted by Keith Carson of Allegheny Mountain Radio.