The advantage of the crossbow with the convenience of a vertical bow!
Physically Challenged Bow Hunters of America says: Pullin bows have helped
thousands
of physically challenged archers across the country!
David Pullin has become the founding father of advanced archery and endorsed by the physically challenged bow hunters of America org.
Click here to Read a notice from PCBA President Chuck Sporer
We are 100% financially supportive of the physically challenged archers of America!

NOTICE!!! They Asked For A Better Bow, And We Built It!!! There is Defiantly None Better! The World's Best! All products are Patented or Patent Pending! JUST ASK THE PERSON THAT HAS ONE!!!!!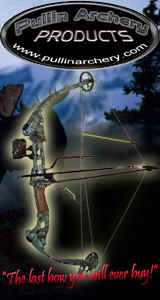 Introducing the Pullin Full Draw
Are you looking for a way to continue to use a vertical bow because of a physical disability? If so, you owe it to yourself to check out the Pullin Archery Full Draw bow tensioning system.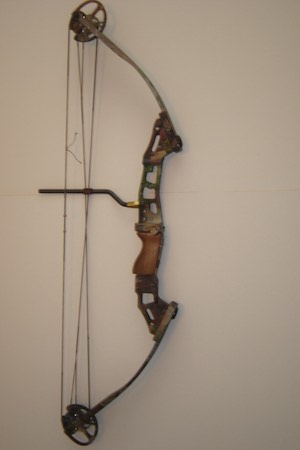 Connector I - Double Cam Bow
See Products page for more.
This bow is legal for all states where the crossbow is a legal choice for hunters.
The Pullin Full Draw Tensioning System is recognized and endorsed by the United Foundation For Disabled Archers, the Physically Challenged Bow Hunters of America, and Buck Masters because it makes the perfect bow for the physically challenged hunter. It is set up to be extremely easy on the shooter's shoulder, arm and hands. It can be converted from a regular vertical bow to the Pullin Full Draw lock in seconds and is light as a feather. It is important to note that the Pullin Conversion Kit is available for and can be added to any vertical bow, if you desire to convert one that you already have. Whether you are starting from scratch or you wish to add the Pullin concept to the bow you already use, there is a solution to fill your needs, whatever they may be.
Introducing the bow of the future!

Are you looking to completely replace your existing bow? The Awesome Full Draw Bow is completely compatible with the Pullin Archery full draw conversion kit. With just one bow you have the option of having a choice of using a standard hunting bow or converting it into a crossbow. Our bow has the smoothest cam on the market today, and like our conversion kit, it is designed to be easy on the shooter's shoulders, arms and hands.
This bow is perfect for the physically challenged bow hunter.
---
One-Man Chimney Cleaner
One man Cleaning System Save hundreds cleaning chimneys anytime. Call for details & prices.
Call:
(540) 296-4902
---
Awards and Recognition
Pullin Archery Products and David Pullin have been recognized by several organizations for superior archery products for the disabled. Here are just a few...
Cambridge Who's Who
Cambridge Who's Who has inducted David Pullin into the Cambridge Who's Who Hall of Fame.
He was also the 2010 Professional of the Year representing the Archery Products and Services Industry.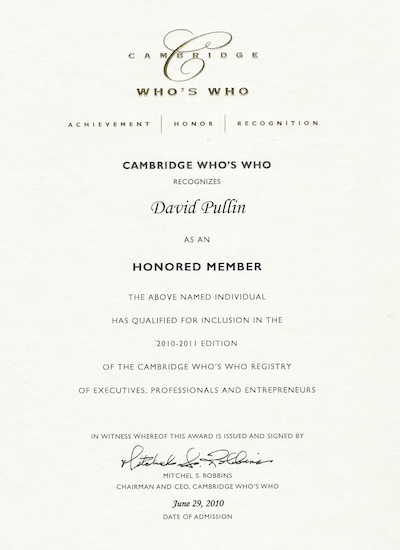 Notice;
At trade, archery, gun, and sports shows all across America and Canada the main question asked was why some companies don't build Products in the archery industry to supersede the compound bows. We listened and we did. Our thanks has been tremendous. One bow for life. We invented & patented it. Sales exceeding 1,000,000 sold directly to customers worldwide. Unbelievably not one complaint or return only promise.
---
The Remington Registry
Remington Registry recognizes Pullin Archery Inc. for superior patented compound bows and unique releases and David Pullin himself for his recognized guest speakerships, workshops, and presentations at a number of events related to hunting, archery, FFA chapters and the assistance of disabled veterans.
---
USA Honor Society
David Pullin was inducted into the USA Honor Society registry in 2010, representing the archery products professional community.
Dear Mr. David Pullin,
Congratulations, You were recently chosen to represent your professional community in the 2010 Edition of USA Honor Society.
The publishing committee selected you, based not only upon your current standing, but focusing as well on criteria from executive and professional directories, associations, and trade journals. Given your background the Director believes your profile will make a fitting addition to our publication.
Your listing will share prominent registry space with thousands of fellow accomplished individuals across the globe, each representing accomplishments within their own geographical area.
Sincerely,
Benjamin Stevens
Executive Vice President, Research Division
USA Honor Society
---
David Pullin Interview
Click below to hear an interview with Mr. Pullin, conducted by Keith Carson of Allegheny Mountain Radio.
---
Having a crowd of compound bow and crossbow manufacturers angry because of the advanced designs, patents, and endorsements of a number of state disabled archery organizations, the physically challenged bow hunters org. are endorsing and promoting Pullin Archery products that can easily destroy the old compound bow and cross bow as known to the archer.
Buck Masters White Tail Deer web site has had Pullin Archery or www.pullinarchery.com listed on their website for number of years. All of Pullin Archery's products are top standard and extremely sought-after, they are reasonable and at present sold directly to their customers world wide.
Their motto: "Now TRY our bows and products you will never go back to standard archery" The Pullin Archery website and videos are all the advertisement and store front needed to grow their business.

Physically Challenged Bow Hunters of America
President Chuck Sporer